Office of Professional Practice Inducts 2022 Hall of Fame
For over 50 years, the Office of Professional Practice (OPP) has prioritized facilitating experiential education through a number of programs that set students up for success in the classroom, with technical skills and in industry. Each year the Professional Practice Hall of Fame honors two-types of inductees: individuals who have significantly contributed to the growth and development of the Purdue co-op programs and those who have utilized their co-op education experiences to reach the highest potential by the leadership and career accomplishments as alumni of the program.
OPP recently welcomed eight highly-respected Purdue alumni back to campus to be inducted during the 12th annual Professional Practice Hall of Fame Ceremony. The 2022 inductees spanned from a collection of industry backgrounds but equally reflected on their experiences at Purdue to help get them where they are today.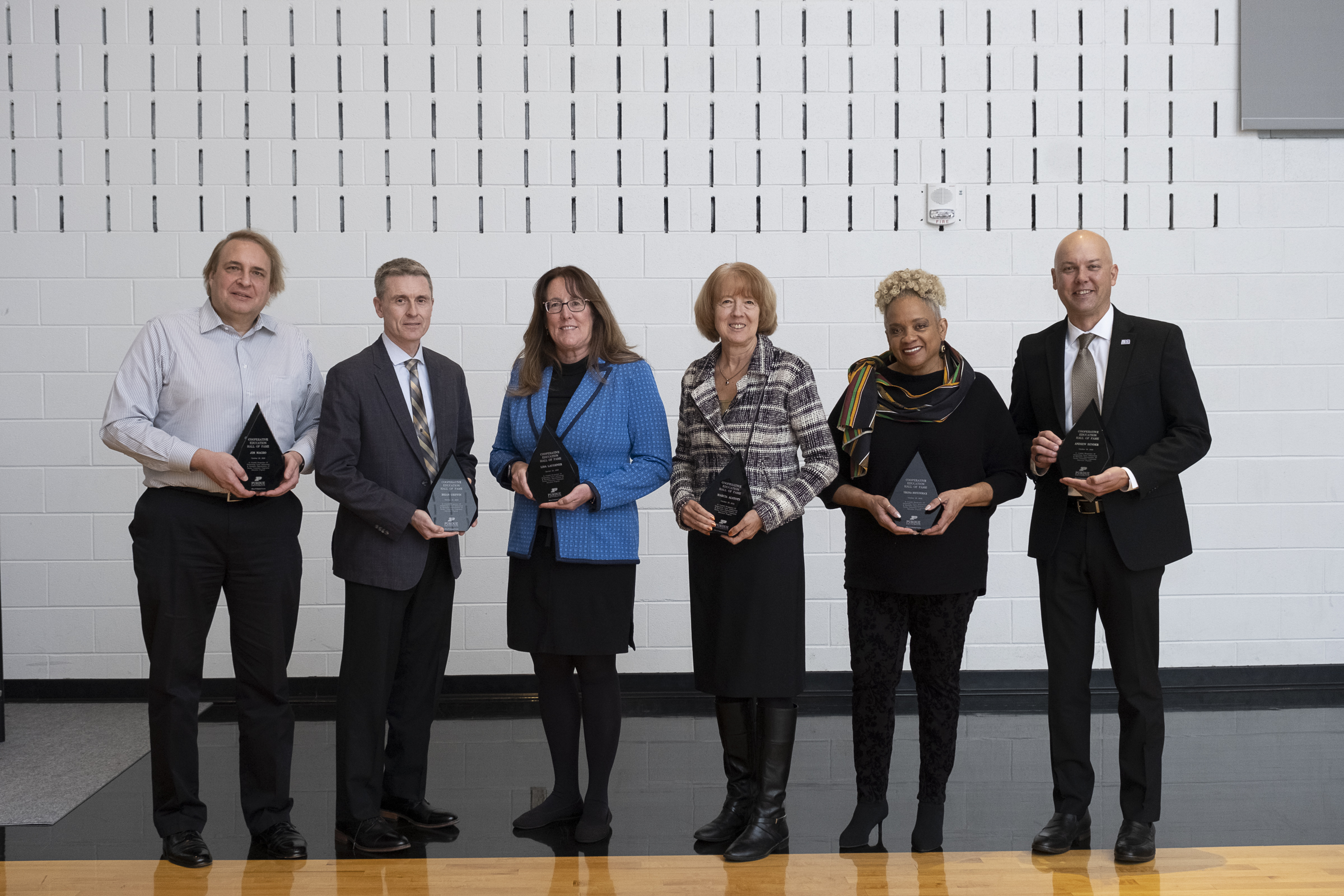 2022 Co-op Hall of Fame Inductees (L-R): Jim Magro, Brian Griffin, Lisa Laughner, Marcia Alstott, Virginia Booth Womack & Drew Bender (Not Pictured: Kamwana Mwara & Caley Burke)
Dr. Mark Lundstrom, the Don and Carol Scifres Distinguished Professor of Electrical and Computer Engineering and Interim Dean for the College of Engineering, welcomed the inductees and guests to the ceremony.
"These individuals serve as stellar examples of the opportunities that experiential education prepares people for. Previous nominees have served in industry and academia as Professors, VPs, CEOs and more, and we are truly impressed by their accomplishments. It also gives me great pleasure to recognize the most diverse group of inductees to date. This is truly something to celebrate." – Dean Lundstrom
Each inductee was welcomed to the stage and presented with the Hall of Fame award followed by sharing a few words about their co-op experience. Attendees in the room were able to hear the stories of impact, including experiences of inductees while on campus and how their former supervisors, faculty, and family helped them in their achievements.
Two inductees, Kamwana "Kam" Mwara and Caley Burke, were unable to join in-person due to assignments with their employer, NASA. Kam and Caley participated virtually and thanked those in the Purdue community who guided them in their career paths to be where they are today.
Joe Tort, Associate Director for the Office of Professional Practice thanked the staff, faculty, administration, and this year's inductees for their contributions to the achievement of the program. As someone who sees the progress and development in real-time on a day to day basis, he was proud to welcome this group of inductees and wished them all continued success in their future.
Ellen Van Daele, Senior in Mechanical Engineering was moved by the ceremony as she is about to graduate in December and is currently in the position that each of these inductees has been, prior to long and successful careers in industry and beyond.
"Hearing the stories and the impact of these individuals really speaks volumes to the co-op program at Purdue. Looking ahead to my future in industry, it's important for me to always remember those who helped empower my journey. Meeting the inductees has motivated me to become a future leader in my career, in my community, and for Purdue University." – Ellen Van Daele, Senior in Mechanical Engineering

2022 Hall of Fame Inductees with colleagues from College of Engineering and Office of Professional Practice
To learn more about the Professional Practice Hall of Fame, please visit: https://www.opp.purdue.edu/about/hall-of-fame
To view photos from the event go to the 2022 Hall of Fame Photo Gallery