Study away trip bridges networking, industry knowledge in Silicon Valley
For most Purdue students, Spring Break centers around migrating south to warmer weather and sunny beaches. While it was (mostly) sunny in California, one particular group of 25 Boilermakers enrolled the opportunity to visit some of the most illustrious tech companies in Silicon Valley.
The Office of Professional Practice (OPP) partnered with Global Engineering Programs and Partnerships (GEPP) for the second edition of the study away trip. Students enrolled in a one-credit course, ENGR 103: Into to Silicon Valley and the Tech Industry in conjunction to the trip. The course provided supplemental professional development led by OPP Program Managers, Jenny Strickland & Patrick Francis. Weekly lectures prior to the trip focused on skills-based learning, entrepreneurship and mentorship, understanding AI, the power of networking, and completing the intercultural development inventory.
Students landed in San Francisco with some recreational activities prior to preparing for work on Monday morning. Trips to Muir National Monument and Alcatraz Island were group daytrips providing students with opportunities to enjoy the local culture and history of the area.
The jam-packed week of visits kicked off with a Tesla manufacturing facility tour and early careers workshop followed by a visit to the Google campus where students engaged in a panel discussion with Purdue alumni.
Dan Rosckes (BSIE '84), VP of Global Sourcing and Supply at Apple, hosted a very distinctive event as this group was the first student tour from any university invited inside Apple Park campus. Various alums shared their professional journeys providing insight on how their experiences led them to careers within various divisions of Apple. Alumni resonated with students. Their stories provided inspiration and practical guidance to students seeking to become future leaders in the tech industry.
Tanmaee Ledalla, a freshman in Mechanical Engineering reflected on her experience during the trip, "I gained valuable knowledge from every representative at each company. I was also able to network with inspiring people who have successfully achieved their goals. This program widened my point of view and showed me that there are hundreds of opportunities out there. I realized the importance of being proactive and communicating my ideas."
Students were able to connect with additional Purdue alumni throughout the week at established industry partners like Intel, ASML, and HPE. Keyvan Esfarjani (BSIE '92, MSIE '94) Chief Global Operations Officer at Intel inspired students by talking about the future of Intel and how innovative, young leaders will be major difference makers in the future of the industry.
Earlier stage companies opened their doors to students providing a different perspective on industry while offering deeper exposure to the world in which their technology is pivotal. Students learned about the incredible innovation of Saildrone's leading technology around ocean data solutions with autonomous surface vehicles, toured the manufacturing site of Zoox, autonomous, all-electric vehicle centered providing mobility as a service, and stepped foot into the hangar of Joby Aviation, an aerial ridesharing service.
In addition to nine industry tours, students engaged with Purdue alumni and professionals in high-touch interactive events organized by Stephen Sposato, co-instructor for the course and Director of the Silicon Valley Office of Purdue's John Martinson Entrepreneurship Center. Students networked with members of the Silicon Valley Boiler Innovation Group (SVBIG) and attended a Venture Capital workshop with Third Point Ventures Partner, Curtis McKee (BSEE '01).
Mark O'Donnell, a Junior studying Electrical Engineering, signed his offer letter for a Fall 2023 internship with Tesla during the trip shared some highlights of his experience.
"After visiting Tesla, I have a newfound appreciation for the manufacturing process of consumer goods and electronics. It was inspiring to see brilliant and unique engineers working cross-functionally with various teams to tackle extremely difficult problems. Seeing Purdue alumni in prominent roles at large tech companies or exciting startups inspires me to dream big and continue working toward my goals. It gives me hope that I could one day be in the same position. With so many successful Purdue alumni generously giving us their time, it helped me reflect on how I should be giving my time to offer guidance to younger Purdue students as well."
­­For more information about ENGR 103: Intro to Silicon Valley, visit OPP website or to learn more about Short-Term Study Abroad go to the GEPP website.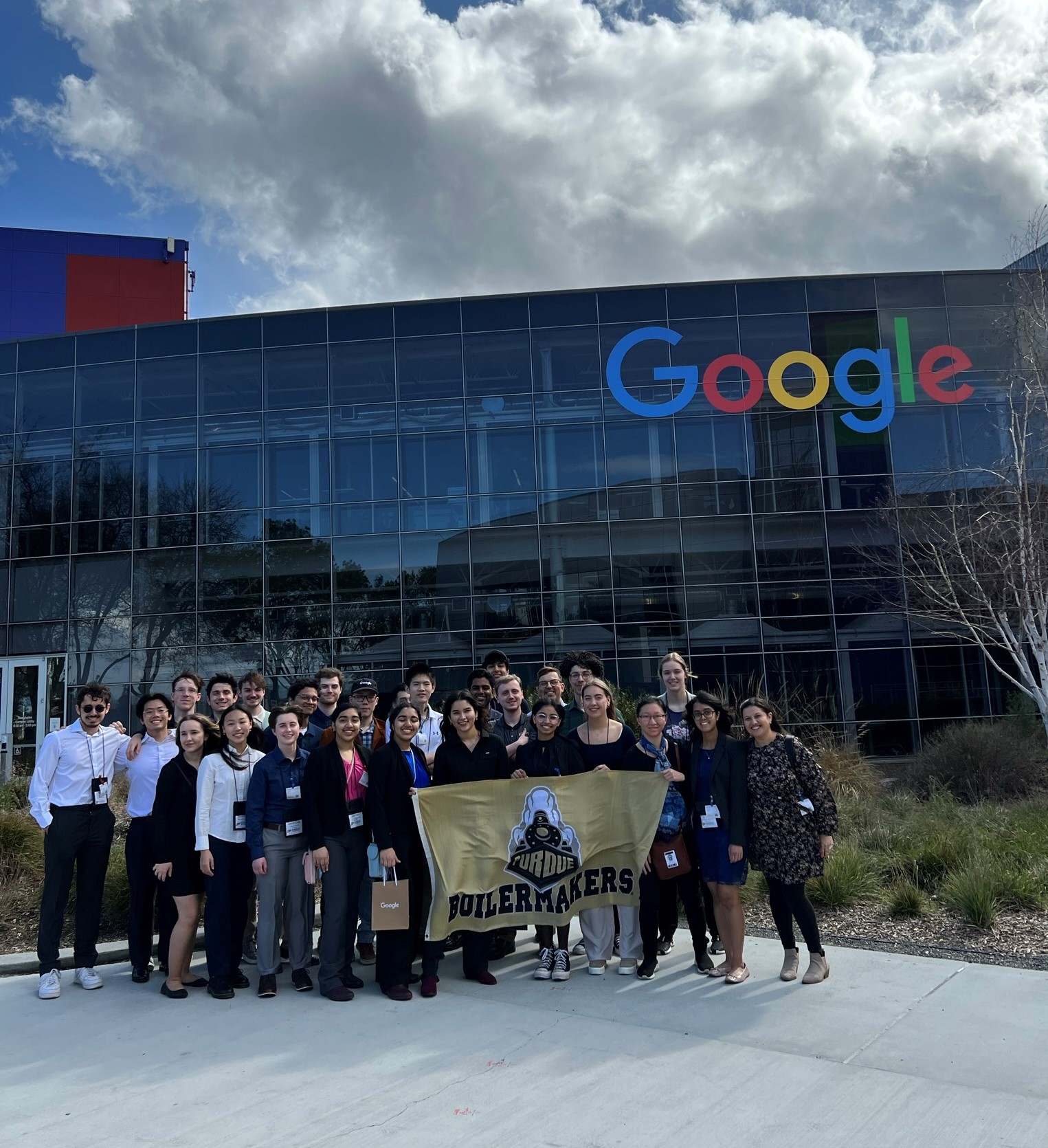 Students stopped for a photo and "Boiler Up" chant during a walking tour of Google campus.
Back Row (L-R): Evan Stonestreet, Kai Ze, Mark O'Donnell, Alex Claure, Tyler Sivertsen, Karteikay Dhuper, Jack Mahedy, Stanley Kim, Bora Ercan, Lucas Yu, Neal Singh, Nakshh Kohli, Bryce Sasser, Patrick Bryan Ortiz, Rachel Rogers.
Front Row (L-R): Aytaj Aslanli, Aurelia Lau, Jaelyn Kelly, Dheepa Hari, Jaya Hari, Shubhangi Mishra, Vaibhavi Chamiraju, Lexi Dorula, Angela Shi, Tanmaee Ledalla, Jenny Strickland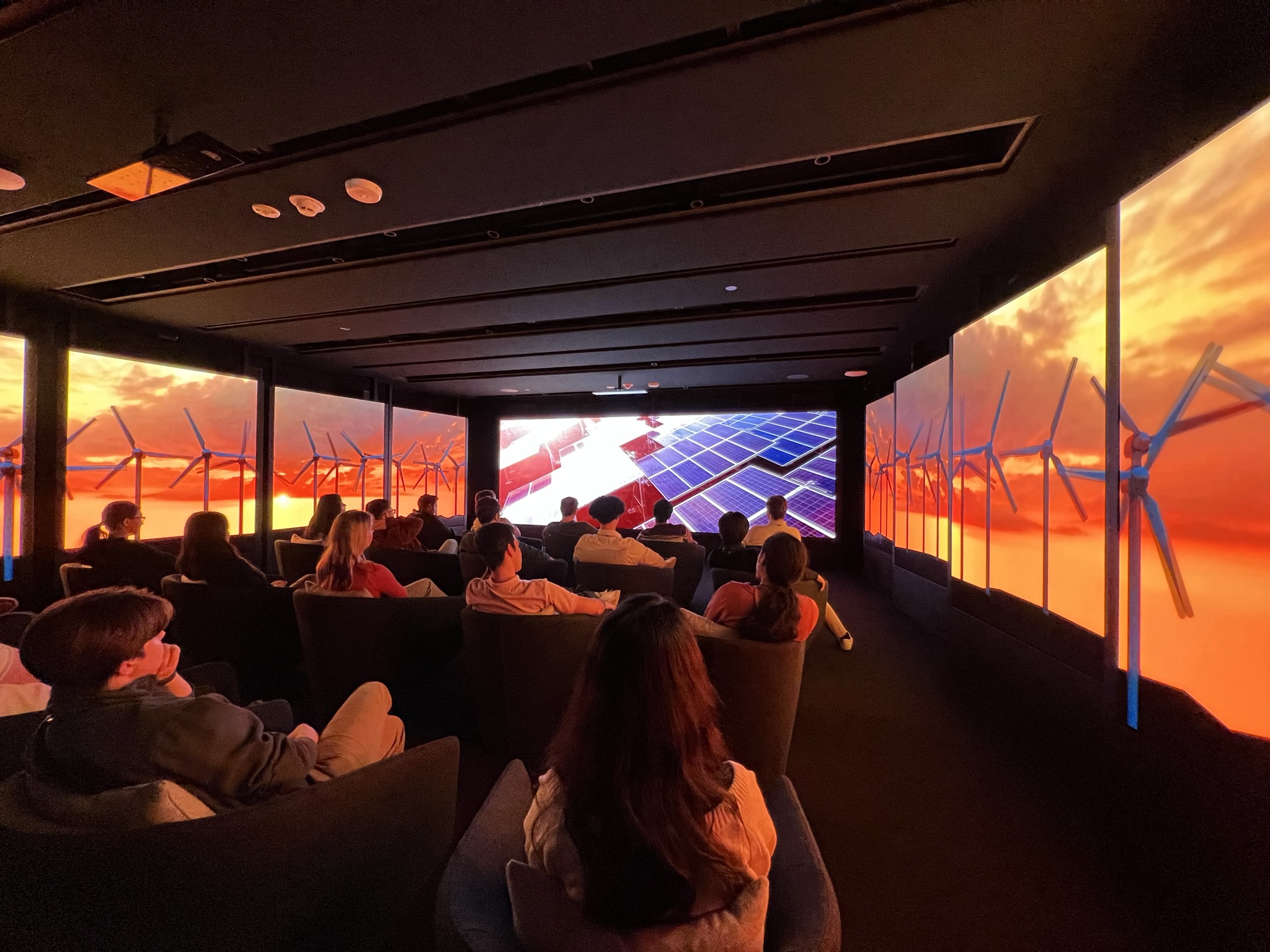 HPE offered a tour and viewing for students inside the Customer Experience Center to showcase innovative projects and initiatives.
For more photos of the trip, click here!